Renovate and Renew with 2021's Refreshing Interior Design Trends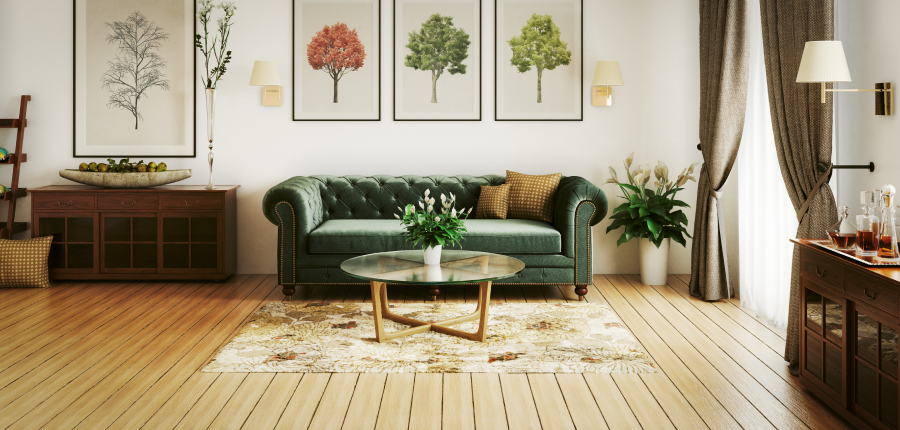 Central London estate agent Daniel Cobb explores some of the best home décor trends predicted for 2021. Read our top tips for improving your home this year.
As the spring season begins, it feels like the perfect time to refresh your home decor. Outdoor/indoor living is the latest craze, and the great outdoors will continue to be a significant influence on interior design trends in 2021. The UK's weather may not match the exotic destinations we visited in pre-Covid days, but one of this year's major trends will reflect those locations in our interior spaces.
Read on to discover more of the home decor trends we expect to see in 2021.

Two interior design trends that couldn't be more different

Rustic vogue has taken the Cottagecore movement a step further, mixing vintage treasures with modern pieces to update the cosy cottage vibe. The focus here is on reclaimed wood and rough, grainy textures.
Japandi is a fusion between Scandi modernism and the Japanese design aesthetic. In Japandi, clean vertical lines contrast with flowing furniture and lighting designs. The colours used are more resonant and warmer than the neutral palette traditionally associated with Scandinavian interiors.
Renovation sensations

A desire to bring the outdoors inside has encouraged us to reconfigure our living spaces. Roof lanterns and roof lights not only fill rooms with natural light; they also help to connect us with the outside world.

Full length glass doors – separating interior and exterior areas – are now an essential home design feature. When designing indoor/outdoor living, the key is to show a clear link between the two areas, with the same flooring type bringing both spaces together.

New inspirations for flooring, wall panels and tiles

Herringbone promises to be one of the hottest home interior trends of 2021. This versatile pattern works well for flooring, fireplace surrounds, bathroom walls and kitchen splashbacks. Mermaid tiles are also growing in popularity: shaped like fish scales, they add a touch of glamour to any bathroom or shower cubicle.

Meanwhile, wooden wall panels are a great way to transform hallways, lounges, dining rooms and bedrooms into cosy, traditional spaces. They are easy to install and can also help with soundproofing and heat retention.

Spring is the ideal time to refresh and redecorate, but if that won't solve the issues in your current property, a home move might be the answer. Make a start by exploring the exceptional range of properties for sale or rent on our website. Alternatively, contact our sales or lettings teams and tell them what you're looking for.