A big welcome back to our much-loved high street stores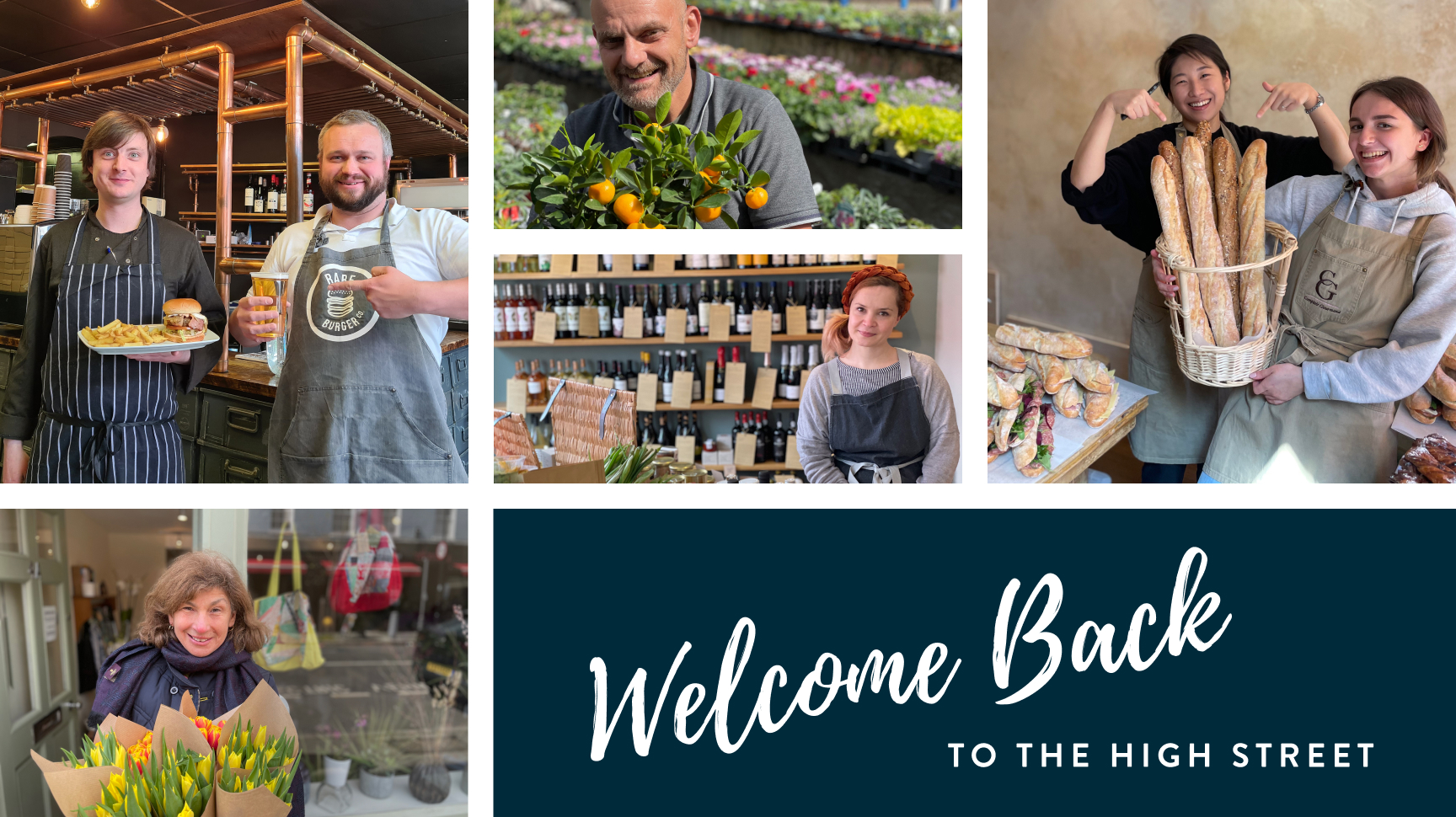 The high street is the beating heart of any urban community. As our local high street stores reopen after lockdown, it's a real affirmation that the UK is returning to normality after 14 months of challenges and hardship.
At Daniel Cobb, we have really missed the bustle and energy of the thriving shops, restaurants and bars close to our offices in Westminster, London Bridge and Kennington. This is our way of supporting and welcoming back those much-loved businesses.
The dedicated shop workers mentioned below are not just our friends and neighbours; they are the lifeblood of the local community, providing exciting shopping opportunities and valued services as well as hosting welcoming spaces where people can meet. Now, as our high street shops are reopening, it's more important than ever to support them.
If your high street shops are open today, grab the opportunity to treat yourself. Nowadays, we all deserve a little pampering, and high street shopping is ideal for indulging in retail therapy. Enjoy!
Our High Street highlights

Sally White
Great to see Mark and Sally back at Sally White, selling their gorgeous cakes, deli treats and delicious coffee.

Millars
You can always rely on Andrew at Millars general store to stock up on your favourite items: we love his organic and sustainable products, welcome back, Andrew!

Oracle
Staff at our Kennington office can't wait to catch up on luxurious skincare and pampering sessions with June at Oracle.

Carazon Latino
No more searching for the perfect birthday gift: Cath is back at Corazon Latino with more stunning jewellery for sale.

Orion Cycles
Cycling was a great way to de-stress during the lockdown: we'd like to thank Leo at Orion Cycles for keeping our spirits up.

Urban Botanica
We're delighted to return to Urban Botanica, where you can drink sensational coffee surrounded by sumptuous houseplants for sale.

Windmill Flowers
Mary's back, with her fabulous flowers. We just can't wait to pop into Windmill Flowers for a stunning summer bouquet.

Get your leathers on! Tarquin at Lind Triumph is revving up to sell his gorgeous gleaming motorcycles, like the one pictured here.

Spring Gardens Nursery
Almost every garden, window box and planter in the Lambeth area is a tribute to green-fingered Andy at Spring Gardens Nursery.

Vauxhall City Farm's animals have missed their human visitors. Meanwhile, keeper Sophie has been taking good care of them.

Rare Burger
Robert and Thomas are firing up the grill at Rare Burger. We're drooling at the thought of their yummy gourmet burgers.

DidiandFranc
Diana at DidiandFranc is an expert on organic and biodynamic wines and cheeses. So eat, drink and help the environment!

Vanilla Black Coffee and Books
Coffee and books are a winning combination: they have made Vanilla Black the go-to spot for a relaxing break in Kennington.

Cafe 303
Goodbye, naff packed lunches! The team at Café 303 are busy once more, making their tasty homemade sandwiches and cakes.

Tea House Theatre has returned with its unique blend of meals, snacks, tea, music, poetry and theatre. Time for tea!

Nails by Linh
It's so good to revisit Nails by Linh. The rainbow colours displayed on Linh's shelves are enough to brighten any day.

British is best, so says Lorna at Lovely and British. Lorna, we love your unique products, all made by UK artisan craft workers.

How we've dreamed of tucking into one of Comptoir Gourmand's sublime pastries during the lockdown. There'll be no stopping us now.

Jose Pizarro
Welcome back, Adriana and Luca! No Friday evening is complete without a glass of wine and a plate of tapas at Jose Pizarro.

Helana from B Street Deli is back, with her winning smile and fantastic coffee. Drop in for some deli treats.

Laura and Sarah are giddy about their shop's re-opening, and so are we. We love Giddy Grocer's excellent fresh fruit and veg.

Hello again to Valentina at Igloo flowers. She's still creating magical floral displays, full of the drama of the natural world.

167 Bermondsey
Alessandro at Bermondsey 167 is back! We can't wait to discover what unusual delights he has in store for us now.

Bermondsey Fayre
Hooray! No more Zoom yoga. Now we can cat-stretch, down-dog and shop again with lovely Liz at Bermondsey Fayre.

Osteria Dell' Angolol
Salvatore and his team are back up to speed at Osteria Dell'Angolo, home of fantastic Italian food and great service.

Sapori's cafe
We've missed Michele and his team at Sapori, a buzzing Italian café/restaurant on Horseferry Road. Great to have you back.

Gianni's cafe
Ciao Ragazzi! We can't wait to rejoin the crowd at Gianni's for some proper Italian pasta, served with love.

Ravello Coffee
Thanks to Amalia and her tireless team, Ravello has kept Westminster going with great food and authentic Italian coffee.
The re-opening of our high streets has been a long time coming. We would like to wish our local stores, cafes, restaurants and beauty parlours every success as they throw open their doors to the public once again. It's great to have you back!