What's On This Weekend: Echoes Exhibition, Cezanne Portraits & Yoga at The Garden Museum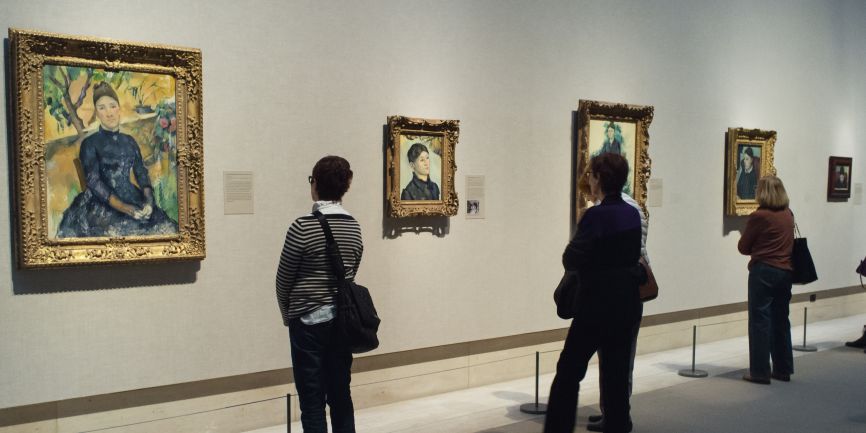 Art Now: Echoes Exhibition in Millbank
Art Now is a series of free exhibitions held at Tate Britain focusing on work by emerging artists and until April it will be the home French artist Marguerite Humeau's current exhibition Echoes. Normally working with large scale installations, this exhibition is seen as a confrontation between life and death, with the gallery transformed into part temple, part laboratory. Two polystyrene sculptures based on Ancient Egyptian Gods symbolize a merge of the organice nature of the human body with biological engineering. Accompanied by the synthetic sound of Cleopatra's dieing voice and a hypnotic yellow environment made from poisonous black mamba python venom, the exhibition acts as a reminder of nature's lethal powers.
Cézanne Portraits Exhibition in Trafalgar Square
Not to be missed, this major international exhibition hosted by the National Portrait Gallery brings together for the first time over fifty of Cézanne's portraits from collections across the world, including multiple works that have never been on public display in the UK before. One of the most influential artists of the 19th Century, Paul Cézanne used a unique method of building form with colour and had an analytical approach to nature which influenced the art of Cubists, Fauvits and many generations of avant-garde artists. This exhibition will offer fascinating insight into the 160 portraits in his collection of almost 1000 paintings done over his 45 year working career. Coming to a close on the 11th February, this exhibition is well worth the visit for art lovers. Not too far from our Westminster office, if you're interested in looking at properties to rent or properties to buy in the area, feel free to drop in and hello to our team who would be happy to help.
Seesaw Children's Play in London Bridge
This weekend at the Unicorn Theatre, a performance of Seesaw will be taking place which is specifically for families with young children between the ages of 3-6. Described as a play that holds big truths within an endearingly simple narrative for little people, Seesaw explores the push and pull of friendship, and the ups and downs of being very young. Following the show there will also be an opportunity to take the kids along to a sandcastle art workshop making it a great way to spend the day in London with the kids. Only a short walk from our London Bridge office, drop in and say hello if you're keen to find out more about properties to rent or properties to buy in the surrounding area.
Beyond The Pylon Of The Pit Exhibition in Bermondsey
The Vitrine Gallery in Bermondsey Square is delighted to announce Leeds born artist Alfie Strong's first solo exhibition in London called Beyond The Pylon Of The Pit. Presenting a new series of works within a site-responsive installation, the exhibition explores melancholic humour within the everyday and the mundane. Employing mythology, it searches transcendental and emotional meaning within basic elemants of our day-to-day lives. Strong reimagines the gallery as an abyss, the bottom of a large lake or unfathomable expansive nothing and explores ideas that speculate the future of our planet. If you're interested in mythology, magic or folklore and would like to see how they might be comined with current cultural problems, then this is a thought-provoking exhibition worth visiting.
Yoga at The Garden Museum in Lambeth
Set within the peaceful surroundings of the Garden Museum in Kennington, before it has been opened to the public, a special one hour yoga class that is suitable for people with all levels of experience, will be hosted by Chloe Faulkner and held in the amazing Nave space. Following this you will be invited to the Garden Café for an exclusive breakfast offer and will be given complimentary access to the Museum. What better way to spend a Saturday morning doing something different. A short bus ride from our Kennington office, if you're interested in looking at properties to rent or properties to buy in the area, pop in and have a chat to one of our team who will be happy to help.
If you're interested in finding out more about future events in Westminster, London, Kennington and the surrounding areas, feel free to drop by any of our offices – we'll be glad to provide you with a list. We can arrange viewings of properties for sale and properties for rent within walking distance of some of these popular venues.
Photo Credit: Ralph Daily