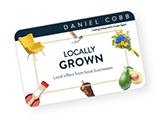 Free test rides, Free 6-week health check off any bike purchased, plus all recognised cycle to work schemes.
Fully Charged, London's leading electric bike retailer, offers transport of the future, today!
Stocking the capital's most extensive range of electric bikes, from urban or folding, to mountain or cargo, we have a bike for you.
Come by our Bermondsey Street showroom to take a look at the range, learn from our experienced and knowledgeable staff and take free test-rides. Learn more at www.fullycharged.com
Opening Hours
Monday - Thursday: 9am - 7pm
Friday: 9am - 6pm
Saturdays: 10am - 4pm