What's On This Weekend: Pride in London, The Flies & River Stage Festival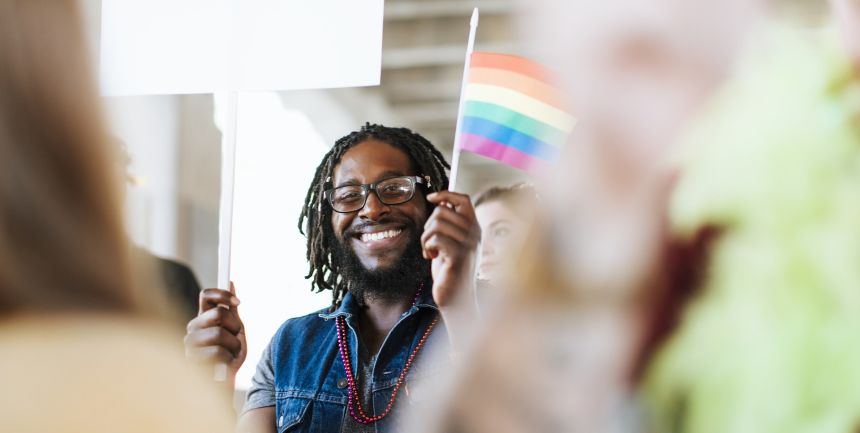 Pride in London
This year marks 50 years since the birth of the modern LGBT+ rights movement. Pride in London is back this Saturday and is set to be the biggest one yet. Last year, over a million people joined in at the pride parade, marching, dancing and laughing to campaign for the freedoms that will allow them to live their lives on a genuinely equal footing. The parade sets off from Portland Place at midday, moving down Oxford Circus, along Regent Street to Picadilly Circus, Lower Regent Street, Pall Mall and then passing Trafalgar Square before finishing on Whitehall. Celebration, diversity, activism, a demonstration – whatever it means to you, show your support this weekend. If you are near our Westminster office and are interested in looking at properties to rent or properties to buy in the area, feel free to drop in and say hello to our team who would be happy to help.
Adam's Antiques Fair in Westminster
The 'Horti as it is also known, is the longest running Sunday antiques fair in London, with traders coming from all over the UK and Europe to take part at the historic Lindley Hall which is part of the Royal Horticultural Halls in Victoria. This month, the dealers will be specialising in fine jewellery, silver, paintings and ceramics as well as other items. There will be over 140 stands, selling a wide variety of decorative and ancient pieces, making it a totally unique event for you to try this weekend. If you're keen to learn about the antiques trade a discover a real insiders' secret, then this is the place to be.
The Flies Play in London Bridge
Exchange Theatre are celebrating their first decade of work an anniversary revival of their first critical success: Jean-Paul Sartre's rebellious and highly political play The Flies. This thriller is the reimagining of the Greek tragedy of Electra and Orestes and explores the complexities of human values in a period of political turbulence. With the help of Mauritian rock band, A Riot in Heaven, the play is transformed into a thrilling rock opera which will be performed alternately in English and Fench in tribute to Sartre's roots, and the 1943 play's origins as a political allegory. Not too far from our London Bridge office, drop in and say hello to our team if you're interested in looking at properties to rent or properties to buy in the area.

Crafty Fox Market in Southwark
Crafty Fox Market has been supporting independent artists for the last eight years and has welcomed hundreds of designers and artists along the way. Their events are held in unique locations including nightclubs, artists' studios, community spaces and major city landmarks. Welcoming thousands of visitors through the doors, keen to snap up beautiful products, they can also enjoy a relaxed atmosphere accompanied by DJs and drinks. This weekend, the Crafty Fox Market comes to Mercato Metropolitano (the food lovers paradise) in Elephant & Castle. There will also be workshops on offer including: a pom-pom keyring making workshop with Little Dot Dovers and a brush lettering workshop where you can brush letter a botanical banner with Jen Roffe.
River Stage Festival in Southbank
The National Theatre's free outdoor festival of arts and entertainment returns this weekend, running throughout the month of July and promises to bigger and better than ever. Each weekend, the River Stage partners will be taking over the stage to offer a full line-up of events for all ages: expect family workshops and theatre, to club nights and DJs. This weekend, east London drag hothouse, The Glory, will be staging a three day Pride party with the best of London's world-leading alternative drag and cabaret scene. Only a short bus ride from our Kennington office, drop in if you're keen to find out more about properties to rent or properties to buy in the area.
Lambeth Palace Garden Open Day in Lambeth
Every first Friday of every month between April and September, the Lambeth Palace garden opens to the public. This is a great opportunity to discover what lies behind the walls at SE1's largest private garden whilst supporting a charity on the day as well with a £5 entrance fee. Drinks and souvenirs will be available on the day as well as a chance to purchase plants and Lambeth Palace honey. This Friday, the Baron's Court Project will be the featured charity, and their primary objective is supporting people on low incomes who are vulnerable to mentall ill health and / or homelessness.
If you're interested in finding out more about future events in Westminster, London, Kennington and the surrounding areas, feel free to drop by any of our offices – we'll be glad to provide you with a list. We can arrange viewings of properties for sale and properties for rent within walking distance of some of these popular venues.

Photo Credit: Rawpixel