What's On This Weekend: Aire and Angels, Craft Oktoberfest & We Are All Londoners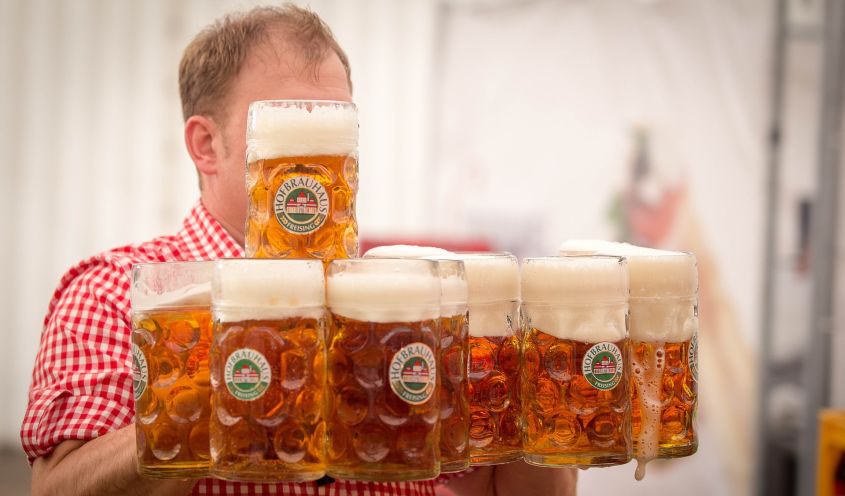 Red Palace Play in Waterloo
Red Palace is a night of feast and fantasy at The Vaults in Waterloo, within a Gothic masquerade ball that breathes new life into our most beloved fairy tale characters. A new immersive theatre and cabaret experience conjured from the darkest, most beguiling and magical folk tales. Make sure to don your mask and your devilish alter ego and join The Prince and his fairy tale guests in a living labyrinth. Only a short journey from our Westminster office and are interested in looking at properties to rent or properties to buy in the area, feel free to drop in and say hello to our team who would be happy to help.
Aire and Angels Exhibition in Trafalgar Square
Aire and Angels explores the development of Elizabeth Peyton's unique art from the 1990's to the present day. Created in close collaboration with the artist, this exhibition will include a selection of key portraits from the first two decades of her careers, and investigate the new direction in her work over the last 10 years. Portraits on display from her diverse and ever expanding repertoire of recurring subjects will include Kurt Cobain, Liam Gallagher, Frida Kahlo, Napoleon, Queen Elizabeth II, David Bowie and David Hockney among others. In addition to over 40 works on display, Peyton will become the first ever artist to be given the run of the entire National Portrait Gallery where her paintings will juxtapose with historic portraits from the Tudor period onwards.
Bartholomew Fair Play in Southwark
Only on for a short run at the Sam Wanamaker Playhouse at Shakespeare's Globe, Bartholomew Fair is set to fill you with joy through its rude, rollicking and eccentric sprawl of life it presents. You can expect an exces of drink, a distinct lack of morals and a whole heap of sin amongst the fair's resident butchers, pimps and pickpockets. It may have been shut down by the authorities nearly 200 years, but the doors have re-opened to the most notorious fair in town and it set to bring the sights and smells of modern day London to life. Not too far from our London Bridge office, drop in and say hello to our team if you're interested in looking at properties to rent or properties to buy in the area.

Kara Walker Installation on Bankside
Fons Americanus is a 13-metre tall working foundtain inspired by the Victoria Memorial in front of Buckingham Palace, London. Hyundai Commissions present one of the most ambitious works to date by acclaimed artist Kara Walker in Tate Modern's Turbine Hall. Rather than a celebration of the British Empire, Walker's fountain explores the interconnected histories of Africa, America and Europe. She uses water as a key theme, referring to the transatlantic slave trade and the ambitions, fates and tragedies of people from these three continents. On display until April, make sure you get down to see this monumental piece where fantasy, fact and fiction meet at an epic scale.

Craft Oktoberfest in Elephant & Castle
Craft Oktoberfest 2019 hosted by German Kraft Brewery takes place this year in Elephant & Castle in the 1200 square metre 'Brew Garden' within Mercato Metropolitano. Over three days this weekend, you can drink the best lagers South England has to offer, whilst dancing and singing to live music and eating pork knuckles, bratwurst and pretzels. The event was so popular last year that they have increased the number of breweries participating so that you can expand your horizon on the complexity and variety of lager style beers. Only a short bus ride from our Kennington office, drop in if you're keen to find out more about properties to rent or properties to buy in the area.
We Are All Londoners Exhibition at City Hall
To accompany the We Are All Londoners event that took place on Saturday 21st September, City Hall are hosting a special exhibition event this weekend with socially engaged artist and photographer, Dr Gil Mualem. Much of Gil's work is participatory, working with marginalized communities in UK and abroad, working with the subject of cultural identity, nationalism, social justice and political struggles. The exhibition will hang in City Hall's Ramp and Café Area until 8th October.
If you're interested in finding out more about future events in Westminster, London, Kennington and the surrounding areas, feel free to drop by any of our offices – we'll be glad to provide you with a list. We can arrange viewings of properties for sale and properties for rent within walking distance of some of these popular venues.
Photo Credit: Sabine Schulte