What's On This Weekend: The Nutcracker, Christmas Carols & Circus 1903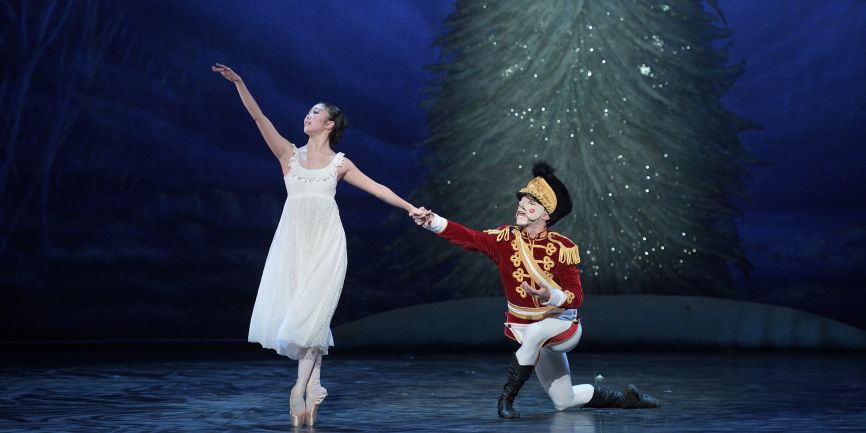 Amélie The Musical in Victoria
The much loved five-time Oscar nominated film Amélie, has been brought to life in the West End version by a cast of remarkably talented actor-musicans and is set to a critically acclaimed re-orchestrated score. Amélie, played by Audrey Brisson, secretly improvises small, but extraordinary acts of kindness discovering the possibilities around every corner and bringing happiness to those she encounters. When a chance at love comes her way, Amélie realises that to find her own contentment she'll have to risk everything and say what's in her heart. Only a short journey from our Westminster office, if you are interested in looking at properties to rent or properties to buy in the area, feel free to drop in and say hello to our team who would be happy to help.
The Nutcracker in Charing Cross
The English National Ballet returns to the London Colisseum this Christmas, following sold out performances for the last three years. Over 100 dancers and musicians bring Nutcracker to life with exquisite dancing, beautiful sets and Tchaikovsky's popular score played live. This is an unforgettable experience for anyone in your family who has not yet had the opportunity to see it, making the perfect Christmas treat. On a sparkling Christmas Eve in a frost-dusted Edwardian London, Clara receives an enchanted Nutcracker as a present. Together, they discover a magical world where she battles with the Mouse King and meets a handsome stranger.
Dora Maar Exhibition on Bankside
The Tate Modern is playing host to the most comprehensive retrospective of Dora Maar ever held. During the 1930's, Dora Maar's provocative photomontages became celebrated icons of surrealism. Her eye for the unusual also translated to her commercial photography, including fashion and advertising, as well as to her social documentary projects. Her relationship with Pablo Picasso also had a profound effect on both their careers and she documented the creation of his most political work, Guernica 1937. This exhibition will explore the breadth of her long career in the context of work by her contemporaries. Not too far from our London Bridge office, drop in and say hello to our team if you're interested in looking at properties to rent or properties to buy in the area.
Southwark Cathedral Choir Christmas Concert
Head to Southwark Cathedral this Friday evening to get yourself in the Christmas spirit, at their annual Christmas concert sung by the Boys and Gentleman of the Cathedral choir. They will be performing Handel's famous masterpiece Messiah as well as all of your favourite Christmas carols by candlelight as we celebrate the festive season. They will be accompanied by the Chameleon Arts Orchestra, Conductor Ian Keatley and Organist Stephen Disley. This traditional choir of men and boys has consistently maintained a high standard and have performed in many venues in London and internationally, and regularly broadcast services on the radio.
Circus 1903 on Southbank
Circus 1903 returns to Southbank Centre, with new acts for 2019 including the Brazilian Wheel of Death. The show includes sensational life-sized elephants stunningly created by puppeteers from War Horse, putting elephants back in the ring as never before. It also boasts a huge cast of jaw-dropping and dangerous acts from all corners of the globe. Including acrobats, contortionists, jugglers, trapeze and high-wire performers and more, this show captivates and transports audiences of all ages to the golden age of circus. Only a short bus ride from our Kennington office, drop in if you're keen to find out more about properties to rent or properties to buy in the area.


Play, Protest and Pelicans Exhibition in Lambeth
The latest exhibition being held at the Garden Museum is Play, Protest And Pelicans: A People's History of London's Royal parks. Looking at Hyde Park, Kensington Gardens, Richmond Park, Bushy Park, St James's Park, Green Park, Regent's Park, and Greenwich Park, London's Royal Parks will draw upon paintings, drawings, photographs and memorabilia from the Hearsum Collection, Royal Collection Trust, Royal Museums Greenwich and the Museum of London to illustrate the surprising histories of London's Royal Parks. They started life as royal hunting grounds: Henry VIII created Hyde Park and St James's Park; Charles I filled Richmond Park with deer in 1625. But over the centuries, the Royal Parks became open to all, providing 5000 acres of green space for the people of London, making it one of the greenest capital cities in the world.
If you're interested in finding out more about future events in Westminster, London, Kennington and the surrounding areas, feel free to drop by any of our offices – we'll be glad to provide you with a list. We can arrange viewings of properties for sale and properties for rent within walking distance of some of these popular venues.

Photo Credit: English National Ballet's Nutcracker (C) Laurent Liotardo