What's On This Weekend: Bermondsey Street Festival, The Great River Race & William Blake Exhibition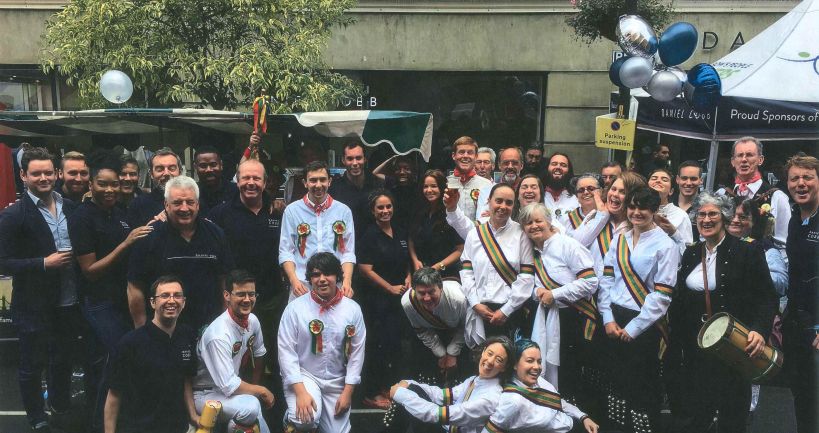 William Blake Exhibition in Millbank
William Blake was a painter, print maker and poet who was responsible for creating of the most iconic images in British art. In his largest exhibition for almost 20 years, you will be able to experience for yourself the impact these works had when they were shown for the first time in 1809. With over 300 original works, including his watercolours, paintings and prints, this is an opportunity to rediscover him as a visual artist for the 21st Century. Only a short journey from our Westminster office and are interested in looking at properties to rent or properties to buy in the area, feel free to drop in and say hello to our team who would be happy to help.
The Permanent Way Play in Waterloo
The Permanent Way is an astonishing interrogation of the chaos arising from the botched privatisation of Britain's railways. This award-winning play comes to life in a provocative new site-specific staging perfomed in London's venue beneath Waterloo Station – The Vaults. Told through the first-hand accounts of those involved at every level, from passengers to Civil Service mandarins, this extraordinary piece challenges responsibility and governmental mismanagement. A revival since it's first run at the National Theatre, this play begs the question, "have we learned anything from recent history?".
Bermondsey Street Festival in London Bridge
The Bermondsey Street Festival takes place once again this Saturday! Coined the village fete in the City, this festival is run entirely by volunteers from the community. People can enjoy a wide range of experiences that truly reflect the area including food, design and the famous Dog Show. Join us at 82-84 Bermondsey Street to have a go at designing your own t-shirt with the kids to be in with winning an amazing Lego chess set, treat yourself to our branded jute bags and Sprout pencils and enter our raffle to win a £100 In-House Maintenance Gift Voucher. If you're interested in looking at properties to rent or buy in the area, pop in and have a chat to a member of our London Bridge office team who will be on hand all day to help.
The Great River Race on Bankside
The Great River Race takes place this Saturday which stretches 21.6 miles from London Docklands to Ham in Surrey. The River's version of the Marathon, this is a spectular boat race that attracts over 330 crew from all over the globe. Appealing to every level of competitor, this race is for everyone. From dedicated atheletes who like winning, to those who enjoy laughter, fancy dress and charity stunts. It's a great day out for both competitors and spectators as you'll be able to catch the race all the way through Central London. Get a good viewing spot from any one of our iconic London bridges to catch a glimpse of this epic race. The race is due to glide through Tower Bridge at 11.50am, Westminster Bridge at 12.10pm and Lambeth Bridge at 12.25pm.
Hansard Play on Southbank
Olivier Award winners Lindsay Duncan and Alex Jennings return to the National Theatre to play Diana and Robin in Hansard, Simon Woods' witty and devastating portrait of the governing class. Directed by Simon Godwin, Hansard tells the story of Tory Politian Robin Hesketh and his wife Diana. Set in 1988, in their idyllic Cotswold house that they have shared for 30 years, secrets unfold left, right and centre. What starts as gentle ribbing and the familiar rhythms of marital sparring quickly turn intoa blood-sport. Only a short bus ride from our Kennington office, drop in if you're keen to find out more about properties to rent or properties to buy in the area.

Africa Utopia on Southbank
In 2012, Southbank Centre launched Africa Utopia, a festival dedicated to bringing art and ideas from Africa and the African diaspora to audiences in the UK. They ask what the West can learn from this rapidly changing continent. How does the African diaspora shape the way we think about art, culture, gender, race, sexuality, fashion, activism and society? For the festival's seventh year, they will be welcoming Akala, Ozwald Boateng, Chineke! Orchestra, Noel Clarke, Nathalie Emmanuel, Bethann Hardison, Femi Kuti, Denise Lewis and many more to their stages.
If you're interested in finding out more about future events in Westminster, London, Kennington and the surrounding areas, feel free to drop by any of our offices – we'll be glad to provide you with a list. We can arrange viewings of properties for sale and properties for rent within walking distance of some of these popular venues.

Photo Credit: Bernd Hildrebrandt