Another True Story
How we fulfilled one couple's Westminster property wish-list
Finding the perfect retirement property for a couple with a long wish-list is never easy. When Paul and Alison Mainwaring came to us wanting a London pied-a-térre, their requirements didn't stop at 'good transport links'.

As both Paul and Alison were approaching retirement, they decided that they needed a lifestyle change. The couple had lived in Guildford for most of their lives and were reluctant to sell the family home, so they decided to buy a London flat which would allow them to make the most of London's world-class cultural amenities in their free time.


Not only did they want a flat in an area close to theatres, restaurants and art galleries, they also needed a property with high ceilings (Paul stands over 6' 3" tall) and ideally a yoga space. In addition, both Paul and Alison were eager to find a property with a "calm, zen-like" view of trees and open green spaces – quite an ask in Central London!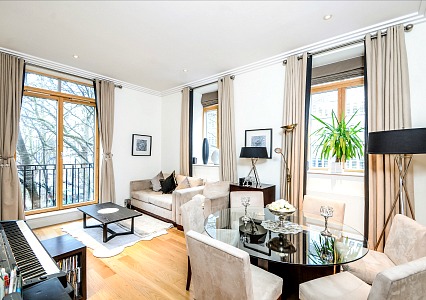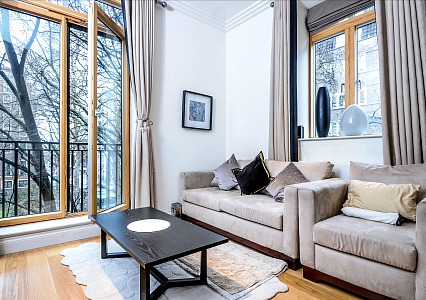 Paul had previously worked in Westminster and knew the area well, so the couple began their search by compiling a list of Westminster estate agents. Naturally Daniel Cobb came high up on their list, and when they called into our Westminster office Darren Devlin from our sales team was happy to talk through their 'must-have' requirements. Twenty minutes into the appointment Darren Devlin was already forming an idea of the kind of location and property that would be ideal for Paul and Alison.
A few mouse-clicks later he had shown the couple a series of suitable flats and confirmed a viewing at one particular property in Westminster that promised to tick all the couple's boxes. Although finding a flat for sale in Westminster with a "calm, zen-like view" seemed an almost impossible request, Darren had remembered a property in St John's Gardens – a beautiful and well-kept square with a fountain at its centre, surrounded by mature plane trees.
Needless to say, when Paul and Alison viewed the property, they immediately fell in love with it. Paul had his yoga space overlooking the tranquil square and Alison was delighted to find how easy it was to walk across the river to reach the iconic theatres and galleries on London's South Bank.
So, if you are writing your wish-list for your ideal Westminster property, we'd be happy to help. Call us today or pop into one of our offices in Westminster, London Bridge or Kennington.